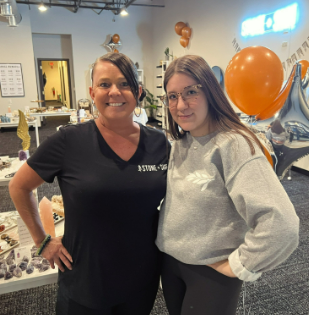 mom + daughter duo
STONE + SAGE is a family owned and operated metaphysical crystal store located in New Berlin, WI. The brick and mortar shop opened in December of 2022. We currently participate in a variety of local venues, expos and farmers markets- as well as we host our own workshops, classes and specialty appointments. We offer more products in store than we currently have available online and also offer a different sale every day of the week!
HOW WE STARTED
Back in 2014 Jennifer Kawczynski (owner- on the left) would attend local farmers markets selling her own line of essential oils. Later she made her very first import order of himilayan salt lamps directly from the Khewra salt mine in Pakistan! Her line expanded - adding in rollerballlss, lotions, soaps and more! Due to family health reasons she dabbled and added CBD to her products. This is where our first company ERTH Dispensary was created. ERTH's retail location is located in Bay View, Wi and has been open since 2018.
Jennifer kept importing crystals for her personal collection and decided to start her own metaphysical company. It was a very lengthy process creating the brand and finding the perfect home for our store- but we landed in New Berlin, Wi and could not be happier! We have our two retail businesses and still participate in our local venues. We have a wide web of connections all of the world to help us source our unique pieces.
Cheyenne Donnell (Co-Owner/ Shop Manager- on the right) creates all of the soy candles, and silversmiths one of a kind gemstone jewelry pieces. She also hosts a variety of different workshops in store or for private events!